South Africa's leading digital platform
bonsella is a "coalition" multi retail store rewards program that provides brands with direct access (by individual) to the lower LSM mass market. Our objectives are to promote sales, gain insight into consumer behavior, build brand engagement and equity, while achieving a sustainable, measurable ROI. In addition, the solution provides 'marketing smarts and tools' to the 2nd tier retail sector.
bonsella provides participating retailers and brands (and other industry stakeholders), the ability to engage directly with this economically active shopping base through 1-2-1 targeted communications.
The bonsella backend technology delivers sales measurable promotions by tracing product take-up at till point, linking the members card to the shopping basket (pre, during and after promotions), resulting in comprehensive basket analytics and customer purchase insight.
This coupled with the ability to reward individual bonsella members in the form of airtime, allows brands and retailers to shape consumer shopping patterns and brand preferences into the future.
Watch our video to see how bonsella can grow your brand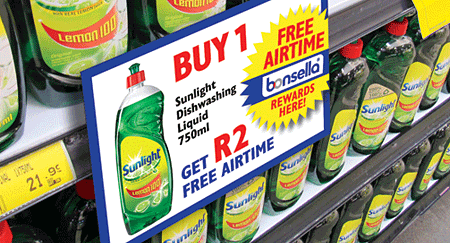 Access to a shopper database driven shopping rewards programme, targeting 10 million economically active consumers nationally.
This segment of the market moves between formal and informal retail spaces to fulfill their need for value, convenience, experience and trust.
54% of the South African population
70% of current advertising spend is directed at the LSM 8 – 10 bracket of shoppers.
70% of current advertising spend
Leaving the 81% of shoppers in the main market not being proactively engaged with.
81% of shoppers in the main market not being proactively engaged
Growth in the retail sector will come from the increasingly consolidated independent buying group sector.
This is not only traditional, bottom-end or emerging, this is the MAIN market of South Africa.
50 independent retailers with 2 108 805+ registered members