An end-to-end media solution
The main market is often difficult to communicate to for advertising brands due to the lack of measurable media and communication platforms available in this important retail environment.
bonsella® brings you the opportunity to:
Activate brand campaigns

Access multiple media & communication channels

Target shoppers directly through SMS's
Get POS data from a broad base in the main market
bonsella® gives brands the unique opportunity to penetrate this market through these brand engagement tools:
In aisle double sided media placed at 90 degrees on shelf to ensure maximum brand exposure at the point of decision making. Highlight new product launches, present brand communication objectives alongside product, simply identify your products location, or strategically create awareness and communication in a complimentary category. Available in ambient and refrigerated aisles.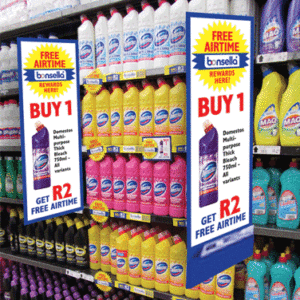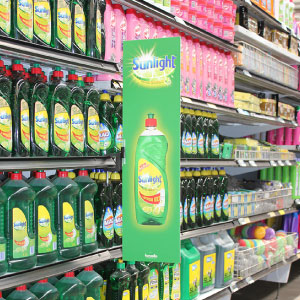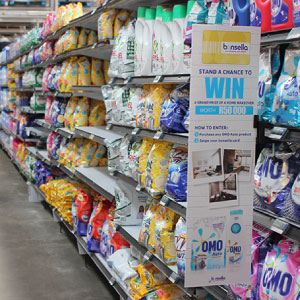 High impact media placed in the flatbed freezers at frozen products for increased brand visibility to improve merchandising presence and capture the shoppers attention as they walk through the aisle.
Engage with shoppers as they enter the store though large format posters in and around the store entrance. Ideal platform to communicate promotions, new launches and competitions to a wide audience.
Ideal exposure to queueing shoppers with double sided print media fixed to every second till pole. Drive spontaneous purchase and increase awareness of services offered at till point with final reminder.
Target specific customers from the extensive bonsella database of profiled shoppers to communicate your brand promotion. Perfect for deals, competitions and airtime reward campaigns to existing and potential shoppers. Shoppers can be targeted according to demographics, region or purchase history.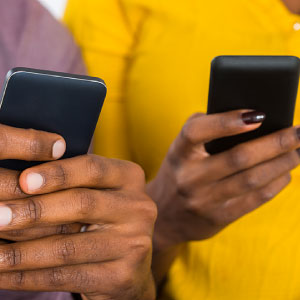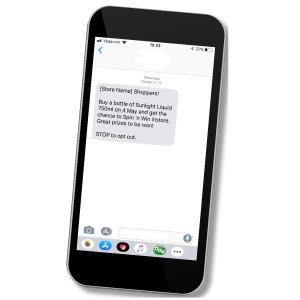 Dedicated promoters in every store provides brand the opportunity to:
✓ Showcase new products
✓ Dry sampling and product testers
✓ Drive brand awareness at point of sale
Promoters are not only local to the community but speak the local language of shoppers and have built a repertoire with the customer base providing a more meaningful shopper experience. Our agents are trained, incentivised and motivated to execute campaigns for shopper engagement, Post campaign reporting includes consumer feedback and sales analysis.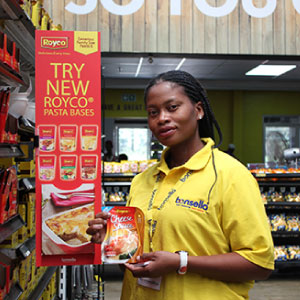 Reward shoppers with airtime sent instantly to their phone! By simply scanning their bonsella card, shoppers are able to earn instant airtime with every purchase of promoted products. Product specific media in store highlights products on promotion, further amplifying awareness at point of sale.
Create excitement in store by offering shoppers the chance to actively engage with brands through dedicated promoters! Shoppers will need to purchase a promoted product, spin the wheel and stand a chance to instantly win a prize!
Drive shopper behavior with exclusive bonsella competitions. Shoppers need to simply purchase the participating product or products and scan their bonsella cards at checkout to be automatically entered into the competition.
Full competition management from brief to winner notification and prize disbursement as well as post campaign reporting.
Distinctive shopper profiles are created with each and every purchase made by the bonsella card holder, allowing brands the opportunity to access detailed and unique customer insights.
Data can be analysed to assess product distribution, penetration and stock levels by store.
POS data also provides customer shopping behavior and basket analysis, as well as provide insight to optimize media and awareness campaigns.
Use any of the following bonsella Insight Reports for insight into both your category and brand: 
✓ Pre-campaign Analysis
✓ Market Penetration / Store Audits
✓ Sales & Market Share
✓ Price & Stock Reviews
bonsella® data, and the presence of agents in every store, allows for the unique opportunity to deliver large scale shopper questionnaires and surveys within days, directly from the in-store environment. The shoppers can be targeted to align with your audience and be immediately rewarded for their feedback through instant airtime loaded directly to their phone. Our insights team will assist with ensuring the right questions are being asked in the right way to extract accurate and reliable data to enhance your main market shopper marketing initiatives.